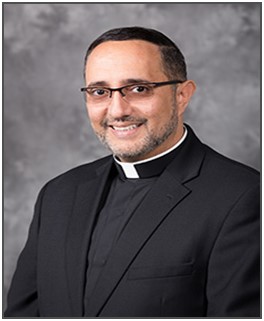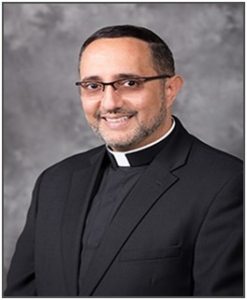 We welcome our New Pastor 
Fr. Julio De Jesus
Father Julio De Jesus was born in Higüey, Dominican Republic. He is the youngest in his family, which   consists of 14 brothers and sisters.  He attended a Catholic school where he believes that the priests and   sisters planted the seed of the priesthood in him. In 1987, his family moved to New York and in 1989 he graduated from The International High School at LaGuardia Community College. Few years later in 1992 he received an Associate Degree in Hotel and Restaurant Management from New York College of Technology and started working in the hotel industry. He attended Florida International University in 1996 and graduated with Bachelors of Science Degree in Hospitality Management. Afterwards, he worked in the hotel industry where he held various      positions including banquet manager, and catering director.
Father Julio De Jesus felt in his heart that God was calling him to a different way of life. In 2005, after talking with his spiritual director he joined the Franciscan Friars of the Renewal to discern religious life where he completed the postulancy, novitiate, and made temporary vows. He was involved in  several  ministries such as: serving the poor at homeless shelters, soup kitchen, food for the poor, porter, finance, parish missions, nursing home and hospital visits, youth retreats,  pro-life ministry and, religious spirituality formation, which including catechism and Franciscan spirituality.
In 2009, Father Julio started his priestly formation for the Archdioceses of Miami at St. John Vianney Seminary in Miami and St. Vincent de Paul Seminary in Boynton Beach where was ordained for the  Archdiocese of Miami on May 9, 2015. He served at Nativity Parish in Hollywood. He was named administrator of Saint Benedict Parish in Hialeah in 2018 where he was promoted to Pastor. His new assignment has brought him to St. John XXIII, we look forward to his leadership and wish him many blessings.
Damos la bienvenida a nuestro Nuevo Parroco – Padre Julio De Jesus
El Padre Julio De Jesús nació en Higüey, República Dominicana. Es el más joven de su familia, que  consta de 14 hermanos y    hermanas. Asistió a una escuela Católica donde cree que los sacerdotes y las hermanas sembraron  en el la semilla del sacerdocio. En el 1987, su familia se mudó a Nueva York y en el 1989 se graduó de "The International High School" en LaGuardia Community College. Pocos años después, en el1992, recibió un título de Asociado en Administración de Hoteles y Restaurantes del "New York College of Technology" y comenzó a trabajar en la  industria hotelera. Asistió a Florida International University en el 1996 y se graduó con una  Licenciatura en Ciencias en Administración Hotelera. Posteriormente, trabajó en la industria hotelera donde ocupó varios puestos,  incluido el de gerente de banquetes y director de servicio de comidas.
El Padre Julio De Jesús sintió en su corazón que Dios lo estaba llamando a una vida diferente. En 2005, después de hablar con su director espiritual, se unió a los Frailes Franciscanos de la Renovación para discernir la vidareligiosa, donde termino el postulantado, el noviciado y los votos temporales. Estuvo    involucrado en varios  ministerios, tales como: sirvendo a los pobres en refugios para personas sin hogar, comedor de beneficencia, comida para los pobres,    portero, finanzas, misiones parroquiales, visitas a hogares de ancianos y hospitales, retiros juveniles, ministerio pro-vida y formación en espiritualidad religiosa. que incluya el catecismo y la  espiritualidad franciscana.
En el 2009, el Padre Julio comenzó su formación sacerdotal para la Arquidiócesis de Miami en el Seminario St. John Vianney en Miami y el Seminario St.     Vincent de Paul en Boynton Beach, donde fue ordenado para la  Arquidiócesis de Miami el 9 de mayo de 2015. Sirvió en la Parroquia Nativity en     Hollywood. Fue nombrado administrador de la parroquia de San Benito en Hialeah en el 2018, donde fue ascendido a párroco. Su nueva asignación lo ha traido a San Juan XXIII, miramo hacia el future hacia su liderazgo y le deseamos muchas  bendiciones.