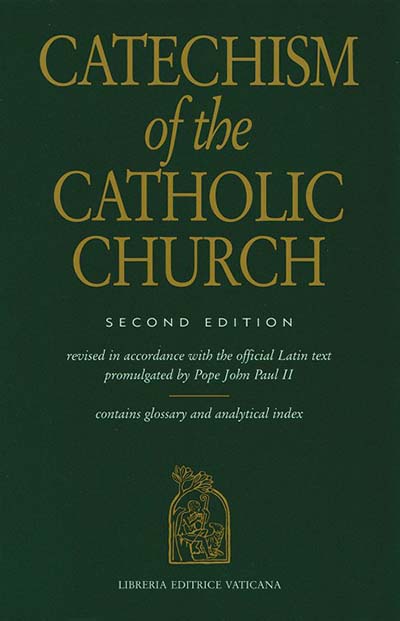 The institution of the Eucharist
Catechism of the Catholic Church – Articles 1337 – 1344
 
"The Lord, having loved those who were his own, loved them to the end. Knowing that the hour had come to leave this world and return to the Father, in the course of a meal he washed their feet and gave them the commandment of love.161 In order to leave them a pledge of this love, in order never to depart from his own and to make them sharers in his Passover, he instituted the Eucharist as the memorial of his death and Resurrection, and commanded his apostles to celebrate it until his return; "thereby he constituted them priests of the New Testament (Council of Trent (1562): DS 1740)."
The three synoptic Gospels and St. Paul have handed on to us the account of the institution of the  Eucharist; St. John, for his part, reports the words of Jesus in the synagogue of Capernaum that prepare for the institution of the Eucharist: Christ calls himself the bread of life, come down from heaven (Cf. Jn 6).
Jesus chose the time of Passover to fulfill what he had announced at Capernaum: giving his disciples his Body and his Blood:
Then came the day of Unleavened Bread, on which the passover lamb had to be sacrificed. So Jesus sent Peter and John, saying, "Go and prepare the passover meal for us, that we may eat it…." They went … and prepared the passover. and when the hour came, he sat at table, and the apostles with him. and he said to them, "I have earnestly desired to eat this passover with you before I suffer; for I tell you I shall not eat it again until it is fulfilled in the kingdom of God."…. and he took bread, and when he had given thanks he broke it and gave it to them, saying, "This is my body which is given for you. Do this in  remembrance of me." and likewise the cup after supper, saying, "This cup which is poured out for you is the New Covenant in my blood (Lk 22:7-20; Cf. Mt 26:17-29; Mk 14:12-25; 1 Cor 11:23-26)."
By celebrating the Last Supper with his apostles in the course of the Passover meal, Jesus gave the    Jewish Passover its definitive meaning. Jesus' passing over to his father by his death and Resurrection, the new Passover, is anticipated in the Supper and celebrated in the Eucharist, which fulfills the Jewish Passover and anticipates the final Passover of the Church in the glory of the kingdom.
"Do this in memory of me"
The command of Jesus to repeat his actions and words "until he comes" does not only ask us to      remember Jesus and what he did. It is directed at the liturgical celebration, by the apostles and their successors, of the memorial of Christ, of his life, of his death, of his Resurrection, and of his intercession in the presence of the Father (Cf. 2 Cor 11:26).
From the beginning the Church has been faithful to the Lord's command. of the Church of Jerusalem it is written:
They devoted themselves to the apostles' teaching and fellowship, to the breaking of bread and the prayers…. Day by day, attending the temple together and breaking bread in their homes, they partook  of food with glad and generous hearts (Acts 2:42, 46).
It was above all on "the first day of the week," Sunday, the day of Jesus' resurrection, that the Christians met "to break bread (Acts 20:7)." From that time on down to our own day the celebration of the Eucharist has been continued so that today we encounter it everywhere in the Church with the same fundamental structure. It remains the center of the Church's life.
Thus from celebration to celebration, as they proclaim the Paschal mystery of Jesus "until he comes," the pilgrim People of God advances, "following the narrow way of the cross (AG 1; cf. 1 Cor 11:26)," toward the heavenly banquet, when all the elect will be seated at the table of the kingdom."
The Eucharist 
Catechism of the Catholic Church – Articles 1356 – 1364
 
 
The Sacramental Sacrifice Thanksgiving, Memorial, Presence
If from the beginning Christians have celebrated the Eucharist and in a form whose substance has not changed despite the great diversity of times and liturgies, it is because we know ourselves to be bound by the command the Lord gave on the eve of his Passion: "Do this in remembrance of me (1 Cor 11:24-25)."
We carry out this command of the Lord by celebrating the memorial of his sacrifice. In so doing, we  offer to the Father what he has himself given us: the gifts of his creation, bread and wine which, by the power of the Holy Spirit and by the words of Christ, have become the body and blood of Christ. Christ is thus really and mysteriously made present.
We must therefore consider the Eucharist as: – thanksgiving and praise to the Father;
– the sacrificial memorial of Christ and his Body;
– the presence of Christ by the power of his word and of his Spirit.
Thanksgiving and praise to the Father
The Eucharist, the sacrament of our salvation accomplished by Christ on the cross, is also a sacrifice of praise in thanksgiving for the work of creation. In the Eucharistic sacrifice the whole of creation loved by God is presented to the Father through the death and the Resurrection of Christ. Through Christ the Church can offer the sacrifice of praise in thanksgiving for all that God has made good, beautiful, and just in creation and in humanity.
The Eucharist is a sacrifice of thanksgiving to the Father, a blessing by which the Church expresses her gratitude to God for all his benefits, for all that he has accomplished through creation, redemption, and sanctification. Eucharist means first of all "thanksgiving."
The Eucharist is also the sacrifice of praise by which the Church sings the glory of God in the name of all creation. This sacrifice of praise is possible only through Christ: he unites the faithful to his person, to his praise, and to his intercession, so that the sacrifice of praise to the Father is offered through Christ and with him, to be accepted in him.
The sacrificial memorial of Christ and of his Body, the Church
The Eucharist is the memorial of Christ's Passover, the making present and the sacramental offering of his unique sacrifice, in the liturgy of the Church which is his Body. In all the Eucharistic Prayers we find after the words of institution a prayer called the anamnesis or memorial.
In the sense of Sacred Scripture the memorial is not merely the recollection of past events but the  proclamation of the mighty works wrought by God for men (Cf. Ex 13:3). In the liturgical celebration of these events, they become in a certain way present and real. This is how Israel understands its liberation from Egypt: every time Passover is celebrated, the Exodus events are made present to the memory of    believers so that they may conform their lives to them.
In the New Testament, the memorial takes on new meaning. When the Church celebrates the        Eucharist, she commemorates Christ's Passover, and it is made present the sacrifice Christ offered once for all on the cross remains ever present (Cf. Heb 7:25-27).  "As often as the sacrifice of the Cross by which 'Christ our Pasch has been sacrificed' is celebrated on the altar, the work of our redemption is carried out (LG 3; cf. 1 Cor 5:7)."
The sacrificial memorial of Christ and of his Body, the Church
Catechism of the Catholic Church – Articles 1365 – 1369 
"Because it is the memorial of Christ's Passover, the Eucharist is also a sacrifice. the sacrificial character of the Eucharist is manifested in the very words of institution: "This is my body which is given for you" and "This cup which is poured out for you is the New Covenant in my blood (Lk 22:19-20)." In the Eucharist Christ gives us the very body which he gave up for us on the cross, the very blood which he "poured out for many for the forgiveness of sins (Mt 26:28)."
The Eucharist is thus a sacrifice because it re-presents (makes present) the sacrifice of the cross, because it is its memorial and because it applies its fruit:
[Christ], our Lord and God, was once and for all to offer himself to God the Father by his death on the     altar of the cross, to accomplish there an everlasting redemption. But because his priesthood was not to end with his death, at the Last Supper "on the night when he was betrayed," [he wanted] to leave to his beloved spouse the Church a visible sacrifice (as the nature of man demands) by which the bloody sacrifice which he was to accomplish once for all on the cross would be re-presented, its memory perpetuated until the end of the world, and its salutary power be applied to the forgiveness of the sins we daily commit (Council of Trent (1562): DS 1740; cf. 1 Cor 11:23; Heb 7:24, 27).
The sacrifice of Christ and the sacrifice of the Eucharist are one single sacrifice: "The victim is one and the same: the same now offers through the ministry of priests, who then offered himself on the cross; only the manner of offering is different." "In this divine sacrifice which is celebrated in the Mass, the same Christ who offered himself once in a bloody manner on the altar of the cross is contained and is offered in an       unbloody manner (Council of Trent (1562): DS 1743; cf. Heb 9:14, 27)."&nbsp
The Eucharist is also the sacrifice of the Church. the Church which is the Body of Christ participates in the offering of her Head. With him, she herself is offered whole and entire. She unites herself to his intercession with the Father for all men. In the Eucharist the sacrifice of Christ becomes also the sacrifice of the members of his Body. the lives of the faithful, their praise, sufferings, prayer, and work, are united with those of Christ and with his total offering, and so acquire a new value. Christ's sacrifice present on the altar makes it possible for all generations of Christians to be united with his offering.
In the catacombs the Church is often represented as a woman in prayer, arms outstretched in the praying position. Like Christ who stretched out his arms on the cross, through him, with him, and in him, she offers herself and intercedes for all men.
The whole Church is united with the offering and intercession of Christ. Since he has the ministry of Peter in the Church, the Pope is associated with every celebration of the Eucharist, wherein he is named as the sign and servant of the unity of the universal Church. the bishop of the place is always responsible for the Eucharist, even when a priest presides; the bishop's name is mentioned to signify his presidency over the particular Church, in the midst of his presbyterium and with the assistance of deacons. the community      intercedes also for all ministers who, for it and with it, offer the Eucharistic sacrifice:
Let only that Eucharist be regarded as legitimate, which is celebrated under [the presidency of] the bishop or him to whom he has entrusted it (St. Ignatius of Antioch, Ad Smyrn. 8:1; SCh 10, 138).
Through the ministry of priests the spiritual sacrifice of the faithful is completed in union with the sacrifice of Christ the only Mediator, which in the Eucharist is offered through the priests' hands in the name of the whole Church in an unbloody and sacramental manner until the Lord himself comes (PO 2 # 4)."
La institución de la Eucaristía
Catecismo de la Iglesia Catolica Articulos 1337- 1344
"El Señor, habiendo amado a los suyos, los amó hasta el fin. Sabiendo que había llegado la hora de partir de este mundo para retornar a su Padre, en el transcurso de una cena, les lavó los pies y les dio el mandamiento del amor (Jn 13,1-17). Para dejarles una prenda de este amor, para no alejarse nunca de los suyos y hacerles partícipes de su Pascua, instituyó la Eucaristía como memorial de su muerte y de su resurrección y ordenó a sus apóstoles celebrarlo hasta su retorno, "constituyéndoles entonces sacerdotes del Nuevo Testamento" (Concilio de Trento: DS 1740).
1338 Los tres evangelios sinópticos y san Pablo nos han transmitido el relato de la institución de la Eucaristía; por su parte, san Juan relata las palabras de Jesús en la sinagoga de Cafarnaúm, palabras que preparan la institución de la Eucaristía: Cristo se designa a sí mismo como el pan de vida, bajado del cielo (cf Jn 6).
Jesús escogió el tiempo de la Pascua para realizar lo que había anunciado en Cafarnaúm: dar a sus discípulos su Cuerpo y su Sangre:
«Llegó el día de los Ázimos, en el que se había de inmolar el cordero de Pascua; [Jesús] envió a Pedro y a Juan, diciendo: "Id y preparadnos la Pascua para que la comamos"[…] fueron […] y prepararon la Pascua. Llegada la hora, se puso a la mesa con los Apóstoles; y les dijo: "Con ansia he deseado comer esta Pascua con vosotros antes de padecer; porque os digo que ya no la comeré más hasta que halle su cumplimiento en el Reino de Dios" […] Y tomó pan, dio gracias, lo partió y se lo dio diciendo: "Esto es mi cuerpo que va a ser entregado por vosotros; haced esto en recuerdo mío". De igual modo, después de cenar, tomó el cáliz, diciendo: "Este cáliz es la Nueva Alianza en mi sangre, que va a ser derramada por vosotros"» (Lc 22,7-20; cf Mt 26,17-29; Mc 14,12-25; 1 Co 11,23-26).
Al celebrar la última Cena con sus Apóstoles en el transcurso del banquete pascual, Jesús dio su sentido definitivo a la pascua judía. En efecto, el paso de Jesús a su Padre por su muerte y su resurrección, la Pascua nueva, es anticipada en la Cena y celebrada en la Eucaristía que da cumplimiento a la pascua judía y anticipa la pascua final de la Iglesia en la gloria del Reino.
"Haced esto en memoria mía"
El mandamiento de Jesús de repetir sus gestos y sus palabras "hasta que venga" (1 Co 11,26), no exige solamente acordarse de Jesús y de lo que hizo. Requiere la celebración litúrgica por los Apóstoles y sus sucesores del memorial de Cristo, de su vida, de su muerte, de su resurrección y de su intercesión junto al Padre.
Desde el comienzo la Iglesia fue fiel a la orden del Señor. De la Iglesia de Jerusalén se dice:
«Acudían asiduamente a la enseñanza de los apóstoles, fieles a la comunión fraterna, a la fracción del pan y a las oraciones […] Acudían al Templo todos los días con perseverancia y con un mismo espíritu, partían el pan por las casas y tomaban el alimento con alegría y con sencillez de corazón» (Hch 2,42.46).
Era sobre todo "el primer día de la semana", es decir, el domingo, el día de la resurrección de Jesús, cuando los cristianos se reunían para "partir el pan" (Hch 20,7). Desde entonces hasta nuestros días, la celebración de la Eucaristía se ha perpetuado, de suerte que hoy la encontramos por todas partes en la Iglesia, con la misma estructura fundamental. Sigue siendo el centro de la vida de la Iglesia.
Así, de celebración en celebración, anunciando el misterio pascual de Jesús "hasta que venga" (1 Co 11,26), el pueblo de Dios peregrinante "camina por la senda estrecha de la cruz" (AG 1) hacia el banquete celestial, donde todos los elegidos se sentarán a la mesa del Reino."
La Eucaristía
Catecismo de la Iglesia Catolica Articulos 1356 – 1364
"El sacrificio sacramental: acción de gracias, memorial, presencia
Si los cristianos celebramos la Eucaristía desde los orígenes, y con una forma tal que, en su substancia, no ha cambiado a través de la gran diversidad de épocas y de liturgias, es porque nos sabemos sujetos al mandato del Señor, dado la víspera de su pasión: "Haced esto en memoria mía" (1 Co 11,24-25).
Cumplimos este mandato del Señor celebrando el memorial de su sacrificio. Al hacerlo, ofrecemos al Padre lo que Él mismo nos ha dado: los dones de su Creación, el pan y el vino, convertidos por el poder del Espíritu Santo y las palabras de Cristo, en el Cuerpo y la Sangre del mismo Cristo: así Cristo se hace real y misteriosamente presente.
Por tanto, debemos considerar la Eucaristía:
— como acción de gracias y alabanza al Padre,
— como memorial del sacrificio de Cristo y de su Cuerpo,
— como presencia de Cristo por el poder de su Palabra y de su Espíritu.
La acción de gracias y la alabanza al Padre
La Eucaristía, sacramento de nuestra salvación realizada por Cristo en la cruz, es también un sacrificio de alabanza en acción de gracias por la obra de la creación. En el Sacrificio Eucarístico, toda la creación amada por Dios es presentada al Padre a través de la muerte y resurrección de Cristo. Por Cristo, la Iglesia puede ofrecer el sacrificio de alabanza en acción de gracias por todo lo que Dios ha hecho de bueno, de bello y de justo en la creación y en la humanidad.
La Eucaristía es un sacrificio de acción de gracias al Padre, una bendición por la cual la Iglesia expresa su reconocimiento a Dios por todos sus beneficios, por todo lo que ha realizado mediante la creación, la redención y la santificación. "Eucaristía" significa, ante todo, acción de gracias.
La Eucaristía es también el sacrificio de alabanza por medio del cual la Iglesia canta la gloria de Dios en nombre de toda la creación. Este sacrificio de alabanza sólo es posible a través de Cristo: Él une los fieles a su persona, a su alabanza y a su intercesión, de manera que el sacrificio de alabanza al Padre es ofrecido por Cristo y con Cristo para ser aceptado en él.
El memorial sacrificial de Cristo y de su Cuerpo, que es la Iglesia
La Eucaristía es el memorial de la Pascua de Cristo, la actualización y la ofrenda sacramental de su único sacrificio, en la liturgia de la Iglesia que es su Cuerpo. En todas las plegarias eucarísticas encontramos, tras las palabras de la institución, una oración llamada anámnesis o memorial.
En el sentido empleado por la Sagrada Escritura, el memorial no es solamente el recuerdo de los acontecimientos del pasado, sino la proclamación de las maravillas que Dios ha realizado en favor de los hombres (cf Ex 13,3). En la celebración litúrgica, estos acontecimientos se hacen, en cierta forma, presentes y actuales. De esta manera Israel entiende su liberación de Egipto: cada vez que es celebrada la pascua, los acontecimientos del Éxodo se hacen presentes a la memoria de los creyentes a fin de que conformen su vida a estos acontecimientos.
El memorial recibe un sentido nuevo en el Nuevo Testamento. Cuando la Iglesia celebra la Eucaristía, hace memoria de la Pascua de Cristo y ésta se hace presente: el sacrificio que Cristo ofreció de una vez para siempre en la cruz, permanece siempre actual (cf Hb 7,25-27): «Cuantas veces se renueva en el altar el sacrificio de la cruz, en el que "Cristo, nuestra Pascua, fue inmolado" (1Co 5, 7), se realiza la obra de nuestra redención» (LG 3)."
El memorial sacrificial de Cristo y de su Cuerpo, que es la Iglesia
Catecismo de la Iglesia Catolica  Articulos  1365 – 1369

"Por ser memorial de la Pascua de Cristo, la Eucaristía es también un sacrificio. El carácter sacrificial de la  Eucaristía se manifiesta en las palabras mismas de la institución: "Esto es mi Cuerpo que será entregado por vosotros" y "Esta copa es la nueva Alianza en mi sangre, que será derramada por vosotros" (Lc 22,19-20). En la Eucaristía, Cristo da el mismo cuerpo que por nosotros entregó en la cruz, y la sangre misma que "derramó por muchos […] para remisión de los pecados" (Mt 26,28).
La Eucaristía es, pues, un sacrificio porque representa (= hace presente) el sacrificio de la cruz, porque es su memorial y aplica su fruto:
«(Cristo), nuestro Dios y Señor […] se ofreció a Dios Padre […] una vez por todas, muriendo como         intercesor sobre el altar de la cruz, a fin de realizar para ellos (los hombres) la redención eterna. Sin         embargo, como su muerte no debía poner fin a su sacerdocio (Hb 7,24.27), en la última Cena, "la noche en que fue entregado" (1 Co 11,23), quiso dejar a la Iglesia, su esposa amada, un sacrificio visible (como lo     reclama la naturaleza humana) […] donde se representara el sacrificio sangriento que iba a realizarse una única vez en la cruz, cuya memoria se perpetuara hasta el fin de los siglos (1 Co 11,23) y cuya virtud saludable se aplicara a la remisión de los pecados que cometemos cada día (Concilio de Trento: DS 1740).

El sacrificio de Cristo y el sacrificio de la Eucaristía son, pues, un único sacrificio: "La víctima es una y  la misma. El mismo el que se ofrece ahora por el ministerio de los sacerdotes, el que se ofreció a sí mismo en la cruz, y solo es diferente el modo de ofrecer" (Concilio de Trento: DS 1743). "Y puesto que en este divino sacrificio que se realiza en la misa, se contiene e inmola incruentamente el mismo Cristo que en el altar de la cruz "se ofreció a sí mismo una vez de modo cruento"; […] este sacrificio [es] verdaderamente                propiciatorio" (Ibíd).

La Eucaristía es igualmente el sacrificio de la Iglesia. La Iglesia, que es el Cuerpo de Cristo, participa en la     ofrenda de su Cabeza. Con Él, ella se ofrece totalmente. Se une a su intercesión ante el Padre por todos los hombres. En la Eucaristía, el sacrificio de Cristo se hace también el sacrificio de los miembros de su Cuerpo. La vida de los fieles, su alabanza, su sufrimiento, su oración y su trabajo se unen a los de Cristo y a su total ofrenda, y adquieren así un valor nuevo. El sacrificio de Cristo presente sobre el altar da a todas alas       generaciones de cristianos la posibilidad de unirse a su ofrenda.

En las catacumbas, la Iglesia es con frecuencia representada como una mujer en oración, los brazos            extendidos en actitud de orante. Como Cristo que extendió los brazos sobre la cruz, por él, con él y en él, la Iglesia se ofrece e intercede por todos los hombres.

Toda la Iglesia se une a la ofrenda y a la intercesión de Cristo. Encargado del ministerio de Pedro en la Iglesia, el Papa es asociado a toda celebración de la Eucaristía en la que es nombrado como signo y servidor de la     unidad de la Iglesia universal. El obispo del lugar es siempre responsable de la Eucaristía, incluso cuando es presidida por un presbítero; el nombre del obispo se pronuncia en ella para significar su presidencia de la    Iglesia particular en medio del presbiterio y con la asistencia de los diáconos. La comunidad intercede también por todos los ministros que, por ella y con ella, ofrecen el Sacrificio Eucarístico:
«Que sólo sea considerada como legítima la Eucaristía que se hace bajo la presidencia del obispo o de quien él ha señalado para ello» (San Ignacio de Antioquía, Epistula ad Smyrnaeos 8,1).

«Por medio del ministerio de los presbíteros, se realiza a la perfección el sacrificio espiritual de los fieles en unión con el sacrificio de Cristo, único Mediador. Este, en nombre de toda la Iglesia, por manos de los presbíteros, se ofrece incruenta y sacramentalmente en la Eucaristía, hasta que el Señor venga» (PO 2)."